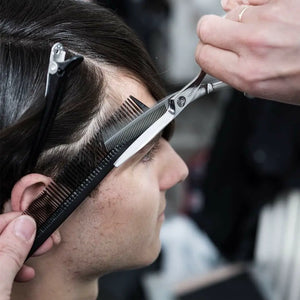 The leading supplier of Hair Scissors
Myhairscissors is the world's largest supplier of hair scissors. On our store, hairdressers have access to the best brands of hair shears (hair cutting scissors & thinning scissors) at attractive prices.
Bestsellers
More than 2,600 satisfied hairdressers recommend this selection of scissors. Which of them will you fall for?
View all
Jaguar Scissors
Opt for the versatility of Jaguar Scissors to perform all your haircuts easily!
View Jaguar scissors
Takai Scissors
The Japanese brand of hair shears. Takai scissors are appreciated by demanding hairdressers. Each Takai scissor is made and sharpened by master craftsmen in Japan to guarantee a unique level of quality.
View Takai scissors
Kamisori Shears
Handcrafted in Japan, Kamisori Shears combine design and cutting performance! Thousands of hairdressers around the world recommend these premium Japanese shears to enhance your haircuts.
View Kamisori shears
Dune Scissors
Master your haircuts with Dune Scissors : quality hair scissors at a lower cost. You will definitely find the scissors you need at Dune Scissors! All Dune Scissors are made from 100% Japanese steel to guarantee best quality.
View Dune scissors
Tondeo Scissors
Tondeo scissors are expertly made in Germany. Many hairdressers use this prestigious brand of hair shears. They are renowned worldwide for the premium quality of their hair scissors.
View Tondeo scissors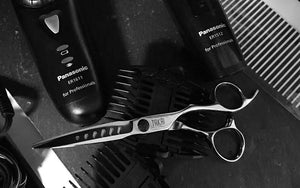 HOW TO CHOOSE YOUR JAPANESE HAIR SHEARS?
At the forefront, the brand is essential. This is what guarantees the manufacturing quality, often sought after on Japanese hair shears. Depending on your budget and requirements, some brands will suit you better than others.
Takai Technology is a brand particularly appreciated by european hairdressers. Indeed Takai is one of the leaders in Japanese hair shears and has a workshop in France to carry out scissor maintenance.
For more than 30 years, Takai has always offered more cutting pleasure to hairdressers who love Japanese hair scissors.
Japanese Hair Shears
Enhance your cuts with Japanese hair shears ! They are high quality and among the best hair scissors in the world.
View all
Myhairscissors: The world's largest supplier of Hair Shears
For every professional hairdresser, it's essential to have good
hair scissors
, to perform haircuts in good conditions. For this purpose, there are a number of leading
hair scissors
brands that guarantee perfect shears for hair cutting. We only distribute recognized brands to guarantee a
high level of quality
for all our cutting shears featured on the store.
Our wide selection lets you choose
hair scissors
to suit your needs. You'll find both right-handed and left-handed scissors. Some are straight-shaped, others have ergonomic handles for a clean cut. Whether for cutting or sculpting hair, your shears need to be
adapted to the body shape of the hairdresser
using them, and be easy to grip. For trimming, opt for fine-pointed shears. For tapering, opt for thick blades and powerful cutting edges, especially when cutting dry hair.


As for thinning shears, they are less widely used than haircutting scissors, so you can choose according to your tastes and desires. However, for beginners, we recommend ergonomic scissors for a good grip. For hair thinning, the closer together the blade teeth are, the less hair the thinning scissors will remove. Conversely, the more widely spaced the teeth, the more hair will be removed.

To choose the right size of hair scissors, get inspiration from your current scissors, or from other hairdressers and barbers in the hair salon where you work. You can compare the size (in inches) and rings of your scissors with your fellow hairdressers to find the ideal size. Many hairdressers have several hair scissors in their hairdressing equipment to cut hair efficiently If you're a professional barber, you'll also find cutting shears designed for men's hairstyles in "comb scissors", which guarantee a precise cut through every strand of hair.

The expertise of a professional hairdresser is essential for perfectly styled hair. In addition to hair cutting shears, a razor or hair clippers can be useful for finishing off a hair cut, particularly for layering or cutting delicate strands. We ensure that our customers, exclusively hairdresser and barber, have access to a full range of professional hairdressing tools from leading brands, from hair cutting shears to razors, to guarantee a professional hairdressing service for their customers.
Our Hair Scissors: To Enhance Your Haircuts

All the hair scissors in our store have been tested by our professional hairdressers, so that we can tell you all about their advantages and disadvantages. You will find blades in carbon steel, others in titanium, and even some in cobalt for the perfectionist hairdresser. The aim is for every hairdresser (and barber) to be able to create their own hairstyles and cut hair with hair cutting shear adapted to their needs. Whether you're a beginner hairdresser or a hair artist, all you have to do is choose your hair scissors and we'll deliver them to you free of charge.
THE STORE SPECIALIZING IN HAIR SCISSORS
Myhairscissors specializes in hair scissors. Founded by former hairdressers, the store aims to offer hairdressers the largest selection of scissors at the best prices. Quickly, and through the quality of our scissors, the store was able to establish itself as the leader in online hairdressing scissors.
THE WORLD'S BEST HAIR SHEARS BRANDS
Our team has selected the best brands of hair scissors so that every hairdresser can find scissors to suit their needs. We only distribute professional scissors brands renowned among hairdressers. Whether you are a young hairdresser or a hairdressing virtuoso, you will find what you are looking for.
HAIR SHEARS EXPERTS FOR YOUR NEEDS
Need advice on choosing your scissors? Our team is trained by the best manufacturers of hair scissors in order to master the ranges available in the store and to be able to advise hairdressers. We are available by telephone from Monday to Friday from 10 a.m. to 7 p.m.
ORDER YOUR NEW HAIR SCISSORS EASILY
Discover the best brands of hair scissors on the store. Whether you are a young hairdresser or a seasoned hairdressing professional, have your new hair scissors delivered free of charge worldwide (at home or in a hairdressing salon)
Quelques avis précieux
Mon avis est clairement positif, j'ai commandé mes ciseaux droits ici et je suis très satisfaite😁

Nathalie R.
Commande recu très vite en 2jours!! Ajouter les brosse et les tondeuse et je passe toute ma commande ici 🥰

Elise T.
J'ai acheté mes ciseaux sculpteur jaguar ici et j'en suis ravi 👍

Marine D.
Bons prix sur les ciseau de coiffure, du choix dans les couleur rose et noir et commande reçue en 3j, je recommanderai chez vous

Emilie G.
J'ai reçu mon ciseau qui me sert pour tailler la barbe, le prix est correct, très bonne entreprise.

Damien R.
Try to win 1 gift🎁
Every week we offer a gift to our subscribers.
Sign up to try your luck