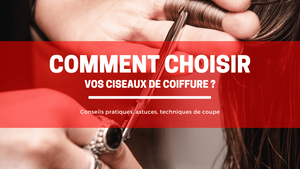 How to choose professional hair scissors?
Do you want to acquire good professional hair scissors ? Don't know how to tell the difference between cheap scissors and a better quality? Then this article is made for you!
Choosing a good scissors is essential, both for your hairdressing business and for your clients. It is therefore important to make the right choice.
For this, our team of enthusiasts offers you its expertise to guide you towards scissors that will best suit you.
In this article you will find:
The differences between basic and professional scissors

The different types of scissors for hairdressers

The best techniques for recognizing quality scissors

Our advice to help choose your hair scissors
So, let's not waste any more time and discover together everything you need to know about hair scissors to choose them wisely. You will become an expert on hair scissors.
Let's go !
Why choose professional scissors?
Let's start by directly answering the question that is on every hairdresser's lips: "why should I put a premium price on good scissors?" By pinpointing the differences between a cheap tool and a professional tool you will understand the benefit of professional hair scissors.
1) The blades
A classic pair of scissors will have poor quality blades , full and smooth, which does not allow precise cutting and which does not adapt to your needs.
Hair scissors with blades that have a sharpening particular, most often made by hand, or sometimes in a traditional way as is the case for Japanese hair scissors. Having blades that have a particular sharpening allows hairdressing scissors to have a clean cut, without hair rolling between the blades.
2) Ergot
Hairdressing scissors most often have a pin, while kitchen or sewing scissors, for example, do not. For hairdressers it is essential to have a lug to facilitate the daily use of scissors.
As a reminder, the lug is mainly used to rest the little finger in order to avoid cramps when performing several haircuts.
3) Rings
Unlike standard scissors, professional hair scissors have two rings. It is possible to place the thumb and ring finger there, which considerably increases comfort for the hairdresser.
Some scissors, like the Exthand scissors for example, do not have rings to make it easier to grip and lower the arm along the body. They are ideal for hairdressers who suffer from tendinitis or other health problems linked to their job as a hairdresser.
4) Materials (steel)
Like many professional steel tools, it is important to use high quality steels in order to increase the lifespan and precision of hair scissors. Japanese steel is one of the best steels for the design of scissors for hairdressers.
As you will have understood, there are several differences between standard scissors and professional scissors. The blades of hair scissors are sharpened and of better quality which improves the cut. The professional scissors have a tab for comfort and duration of use, and two rings to place the thumb and ring finger. Finally, the steel is carefully chosen to provide a long life for your scissors.
The evolution of hair scissors over the centuries
Since Antiquity, the notion of body care, beauty and therefore hairstyle has been an important notion for everyone. As a result, since that time, hairdressing equipment (notably scissors) has undergone very significant developments.
Of the first bronze or iron scissors , C-shaped with a basic mechanism, to stainless steel hair scissors with the shape we know today centuries have passed.
Nowadays, there are several materials and several types of hair scissors (we'll come back to them shortly). It is even possible to obtain scissors loaded with precious stones and mother-of-pearl in order to become luxury accessories . Hairdressing is now a noble art!
The different types of scissors for hairdressers
Now let's go over the different types of hair scissors that you can find. We are not going to detail the majority of them because article dedicated to types of hair scissors is already available on our website.
1) Straight scissors
Straight scissors (also called hair cutting scissors) have two full blades, which helps provide a full and clean cut . They are ideal for all hair types. These are the most used scissors in the world of hairdressing. Equipped with straight branches, it was the first form of hair scissors to emerge. Some hairdressers have gotten into the habit of cutting with this straight shape. If this is not the case, we recommend ergonomic scissors, they will promote your health as a hairdresser in the long term.
2) Offset scissors
Offset scissors (also called ergonomic scissors) are scissors commonly used in the hairdressing industry. Their ergonomics promote great maneuverability of the movement. They are ideal for hairdressers who cut hair all day long. Over time, your efforts will be reduced thanks to the ergonomic shape of your scissors.
With these scissors, the haircut will be done obliquely to the axis of the hand. Which makes your cutting movements easier.
3) Micro-toothed scissors
To achieve a precise cut, you should use micro-toothed hair scissors. In fact, their blades help prevent hair from sliding along the blades. The other advantage of these scissors is that they offer consistent cutting quality in a straight cut. It's up to you hairdressers to know which scissors will suit you. Micro-toothed scissors are not recommended for thinning. This technology is ideal for straight cutting, but prevents the blades from slipping on the hair. They should therefore be avoided if you are looking for fluidity during your cuts.
4) Thinning scissors
Thinning scissors are mainly used at the end of your haircuts. This type of scissors allows you to thin out the cut thanks to its sharp blade which will "sculpt" the hair. They are used with caution, to beautify and perfect your haircuts.
Some thinning scissors called " texturizing scissors" have more spacing between each tapering tooth, which allows more material to be removed. They have fewer sharpening teeth than usual sculpting scissors.
5) Left handed hair scissors
Left-handed hairdressers are too often forgotten by manufacturers of hair scissors. As its name suggests, this pair of scissors is designed exclusively for left-handed hairdressers, offering the same quality as right-handed scissors. The ergonomics and the branches are reversed to adapt to the gestures of left-handers. There is less choice in left-handed scissors than in right-handed scissors because right-handed hairdressers remain in the majority and scissor manufacturers know this.
We are aware that left-handed scissors are less common. We work with scissor brands to offer left-handed hairdressers a wide choice of scissors.
6) Japanese scissors
Japanese hair scissors are the most famous throughout the world! These are scissors equipped with best steels and a unique sharpening called Hamaguri , an art mastered by only a few artisans. Trust the reputation of the brand to choose good Japanese scissors. As examples, Takai and Joewell are world leaders in this field. Also think about the service (repairs, sharpening, etc.) which must be in France or Europe if you need to send your scissors to the workshop. This is the case of these 2 prestigious brands, well known by hairdressers.
Now that you know the differences between professional scissors dedicated to hair cutting and standard scissors, and that you are familiar with the different types of hair scissors, all you have to do is recognize what makes a pair quality of high-end scissors.

How to recognize the quality of hair scissors?
1) The precision of scissors
Here you simply have to choose the right type of scissors according to your needs and requirements and then check whether the quality of the cut remains consistent from the start to the end of your haircut. Depending on the cutting techniques you practice, some scissors will suit you better than others, and this is completely normal. Most hairdressers use several pairs of scissors depending on their needs. Some with fine points, others with long blades. Favor Japanese blades if you practice thinning with your cutting scissors.
2) Manufacturing and steels used
For manufacturing, favor craftsmanship if possible, or a manufacturer recognized in the field. Tondeo or Takai for example are brands recognized and appreciated by hairdressers. In terms of steels, one of the best choices is in stainless steel, which combines lightness, strength, long life and easier handling. In addition, your scissors will resist corrosion. The blades of this type of scissors are sharper. In short, the ideal choice.
3) Adaptable scissors
Finally, it is important to take into account the cutting force of the blades . For this, you can rely on the cutting blade regulator. This is the small screw located between the two branches of your scissors. The regulator must be visible, accessible and easily manipulated so that the two blades slide perfectly and the cut can be directed with great precision. Hair scissors are fragile tools. To adjust the tension of your blades, proceed delicately, notch by notch, with the appropriate tool (supplied with all our scissors) to avoid the risk of damaging them.
Knowing how to recognize good professional hair scissors will now be child's play for you!
You now know everything there is to know about the differences between standard scissors and professional hair scissors , made for hairdressing. You know the different types of scissors and know how to recognize quality. Remember, however, that every hairdresser is different and only you know which scissors will suit you. Now you can visit our store in order to choose the scissors suited to your needs and your requirements as a hairdressing professional.