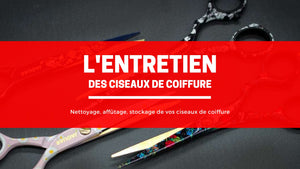 Maintenance of professional hair scissors
Welcome to hairdressers looking for advice and tips for maintaining their hair scissors. How to clean them? How to disinfect them? Where to sharpen your scissors? You are in the right place.
At Myhairscissors we specialize in hair scissors and we have the answers to your questions. Here we share essential maintenance tips for taking care of your favorite scissors.
It is essential to maintain your hair scissors in order to maximize their lifespan and maintain an efficient cutting edge, especially for high-end scissors which require special attention.
In this article, you will discover:
How to maintain your hair scissors
Maximize the life of your scissors
Sharpen your hair scissors correctly
Keep your scissors in good condition
After this article, you will know everything about caring for your scissors!
How to maintain hair scissors?
If you are a hairdresser, you know that maintaining hair scissors is essential to working in good conditions. Maintenance requires simple actions, which every hairdresser must know in order to preserve the quality of their cutting tools.
But what are the best practices? When to maintain your scissors? How to do ? Here are three simple actions to perform daily to maintain your hair scissors properly.
1. Rinse the scissors under lukewarm water
At the end of the day, it is advisable to rinse your hair scissors under lukewarm water or in a disinfectant solution designed for hairdressers. The goal is to remove all the hair that may accumulate after a day of work. It's a simple gesture that involves cleaning your scissors to remove small hairs, dirt, or keratin that remain on the blades.
For your blades to function properly, it is recommended to remove small hairs and any other matter that accumulates around the screw and in blades. Take the time to clean the entablature well so that nothing interferes with the friction of the blades. Then wipe them with a clean, dry cloth.
Tip : Do not leave your hair scissors overnight in humidity, they could become damaged over time.
2. Lubricate the screw and blades
After cleaning blades and the central screw, remember to lubricate the screw with an oil designed for hair scissors. Generally it is provided when you buy your shears. The objective of this step is to make the opening and closing of the blades smoother. To lubricate your scissors, nothing could be simpler:
Half-open your pair of scissors
Pour a drop of oil into the entablature
Gently open and close your blades
Repeat this movement several times
Wipe off excess oil with a clean cloth
And there you have it, your scissors are now dry and clean!
3. Store your scissors dry and safe
Storage is just as important as the other steps. By storing your hair scissors in a humid environment you risk damaging them, or seeing rust appear on your blades. So remember to keep them in a suitable bag or pouch, such as a hair scissors case, or simply in their original box.
Do not neglect storage, these are fragile tools which require special attention to remain in good condition. Also, they are not likely to fall to the ground or suffer shocks if they are stored in their case.
Increase the durability of your hair scissors
Investing in a high-end, durable pair of scissors is a good solution for mastering your haircuts and working in good conditions. However, there are a few tips to maximize the life of your professional scissors. Here are our tips for preserving your hair scissors over time:
1. Maintain your scissors daily
Maintaining your scissors is essential to keep them for as long as possible. Some pairs of high-end scissors require little maintenance, but the vast majority of hair scissors that are used all day in a hair salon need the daily maintenance described earlier in this article.
2. Avoid impact on the blades or tip
Most high-end hair scissors can be refurbished or repaired in the event of an impact, but still avoid them as much as possible. After an impact or a fall, the alignment of your blades is out of alignment, so you no longer have the right tension, and this is why your scissors cut poorly after a fall or an impact. To mitigate this, avoid impacts, falls, or combing your blades or sharp edges as much as possible.
3. Use products designed for hair scissors
In these times, many hairdressers are using disinfectant wipes to disinfect their hair scissors. We advise only using wipes suitable for haircutting tools. Be careful not to use bleach-based disinfectant wipes or solutions. Bleach attacks steel and risks damaging your scissors.
How to sharpen professional hair scissors?
Here is a question that often arises: how to sharpen your hair scissors? Not all scissors require the same attention. Scissors for apprentice hairdressers and high-end scissors require different attention, for high-end scissors, take the time to find the right contact who will not damage your scissors. Here are our tips on this subject:
1. From the manufacturers of hair scissors
The first piece of advice is to contact your supplier or directly to the manufacturer of your scissors. Example: for Takai you can contact their team who will tell you the procedure to follow to sharpen your Takai scissors. For information, 2 sharpenings are offered on all Takai scissors, and without time limit! The same goes for the Jaguar or Tondeo brands (which are German brands). You can contact them directly to have your scissors sharpened at the factory. Remember to keep your purchase invoice which may be requested during sharpening.
2. From specialized sharpeners
Some blade sharpeners specialize in sharpening professional hair scissors, if they are trained and equipped with the right machines they will be able to sharpen your scissors. However, for high-end scissors we favor the service of the manufacturer who knows his hair scissors and who will know perfectly how to carry out quality sharpening.
3. In a workshop specializing in hair scissors
There are various workshops specializing in the sharpening and maintenance of hair scissors. You can find their contact details on the internet. Make sure they have already worked on the brand and range of your scissors so you don't have any unpleasant surprises after the operation. For high-end shears, contact your supplier who will tell you what to do.
Conclusion
In conclusion, regular maintenance of your hair scissors is essential to maximize their lifespan and ensure quality haircuts. By following a few simple tips, such as cleaning, lubricating the screw, and proper storage, you can extend the durability of your scissors.
Avoid impact on the blades to keep the edge in good condition. If you would like to know more you can discover our complete guide to hair scissors by clicking here. It is designed for hairdressers looking for more information on their favorite hair cutting tool.
Regarding sharpening, it is recommended to contact the manufacturer or a specialist sharpener for the best results, especially for high-end scissors. By taking care of your hair scissors, you ensure a reliable and efficient tool to carry out your haircuts with precision.