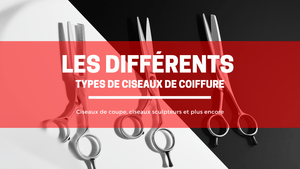 The different types of hair scissors
Experienced hairdresser, apprentice or simple hairdressing enthusiast? Discover the different types of hair scissors ! Indeed, it is important to choose a pair of scissors adapted to your needs and your hand. Some look for scissors that glide easily over the hair when cutting, and others look for pretty, colorful scissors.
What are the different hair scissors?
Hairdressers use types of hair scissors. Some to create the cut, and others to finish and refine the haircut. Let's take a look at the different scissors that hairdressers use on a daily basis.
1) Hair cutting scissors
Hair cutting scissors allow you to cut both men and women. They must be rigorously selected by hairdressing professionals who use them on a daily basis.
There are some for right-handed and left-handed users to best meet the expectations of all hairdressers.
Hair cutting scissors have two full blades and provide clean, precise cuts. It is important to take into account the length of the blade, the ring, the type of blade, the steel used and finally the value for money depending on the scissors you are looking for.
The use of hair scissors in their straight forms goes back a long way and is still a popular choice among hairdressers today. Its design has been designed to hold your scissors using the ring finger and thumb in a so-called classic shape, with aligned rings. Cutting scissors are one of the essential tools for any hairdresser.



In order to maintain your career as a hairdresser in the long term and in good health, it is wise to choose your hair cutting tools (scissors, clippers, hair dryers, etc.) carefully.
Indeed, over a short period the use of classic shaped scissors will have no negative impact on you, but in the long term they can affect you, in particular "carpal tunnel" syndrome. In fact, through repeated movements on your wrists, your fingers as well as your elbows suffer microtrauma, which can penalize you in your career and deteriorate your health. If you already have these symptoms, preferably look for ergonomic scissors.
2) Ergonomic "Offset" cutting scissors
"Offset" hair scissors or ergonomic scissors are among the most common and most used models, in fact its handle and grip have been designed to have a more natural and relaxed position when using it. There are different types of blades for your offset scissors: solid blades, notched blades, etc.

In fact, only the design of the handle differs allowing for better comfort of use.

Its design significantly reduces hand fatigue and contributes to reducing the risks associated with carpal tunnel, reducing repetitive strain injuries.

Using its handle with a slight curvature creating this offset design which aims to help the angle of placement of your wrist and the posture of your body so that you are not in an awkward position as much for your wrist, your arm and your shoulder.
But remember that having correct body positioning and keeping your elbow in a high position when cutting hair is always important.
3) "Craene" cutting scissors
Crane cutting scissors are intended for people who already suffer from problems related to the wrists or arms, in fact hairdressers who have adopted bad habits during their hairdressing work will use this design of scissors which is much more comfortable and ergonomic.
The difference between the Crane scissor shape and the Offset shape is mainly noticed when you hold the blades horizontal, instead of being centered, the handle is tilted down and the blades are curved.

This model of hairdressing scissors allows better positioning of the body when cutting hair and therefore promotes your health as a hairdresser.
4) Thinning and texturizing scissors
Thinning or texturizing scissors only have one smooth blade and another serrated side which allows you to cut only a limited quantity of hair. These are the perfect scissors for blending and removing volume, they are generally used for short hairstyles, layers and blending thick hair. The term sculptor scissors is well chosen, these hairdressing scissors allow you to sculpt your haircuts.

There are different types of thinning scissors, the "texturizing" model for example. The main difference of this model is in the number of thinning teeth that the scissors have. They therefore allow more hair to be removed with each stroke of the scissors. Using sculpting scissors requires the necessary expertise.
5) Left handed hair scissors
Left-handed scissors have reversed blades, so the top blade is always on the left. If you are new to hairdressing, and you are left-handed, opt for left-handed scissors, it is essential for developing good habits.
This makes it easier to see the cutting line and ensures that your hand is pushing the blades together properly.
The reverse blade also prevents hair from getting caught between the blades for a clean cut.
Your hand is in a more comfortable position because the scissors are ergonomic and match your natural squeezing motion. Over time, you risk injuring your wrist if you use scissors designed for right-handed people. Discover our range of left handed scissors.
6) Japanese hair scissors
Japanese scissors are extremely renowned throughout the world, in fact, having manufactured and sharpened swords and scissors over the years, Japanese artisans know exactly which is the best steel to produce better quality blades and sharper. Their expertise in blades has been recognized for hundreds of years.
Advantages of Japanese steel:
Corrosion resistant
Easy to manipulate
Lighter than most types of stainless steel
Blade sharpness duration
Stronger, more resistant
The Japanese are also known for their invention of the convex blade, technology used by several renowned scissor manufacturers.


Which hair scissors to choose?
To choose your hair scissors, we advise you to compare the size, the shape of the branches, the screw, the type of steel used and of course the quality of the cutting edge of the hair scissors.

It is important that you have a good grip and that they are easy to use, there are different types of blades such as micro-toothed blades, as well as wide-notched blades. You must choose your scissors according to your requirements and cutting techniques.

If you are designing several cutting techniques on different types of hair, it is essential for you to have several pairs of scissors in your hairdressing kit, straight scissors (of different sizes, thinning scissors, etc.)

We invite you to consult our different ranges of professional hair scissors to find each pair of scissors that will constitute your future hairdressing kit!